---
The ocean's salt comes from two sources — runoff from the land and openings in the seafloor. Rocks that end up in the ocean water are the primary source. Rainwater, which is slightly acidic, erodes rocks over time. The eroding rocks release ions that eventually end up in the ocean after they pass through streams and rivers, according to the National Ocean and Atmospheric Administration (NOAA). There are also hydrothermal fluids, which come from openings at the bottom of the ocean, explains NOAA. Ocean water heats up from magma at the Earth's core when it seeps into cracks in the...
---
The vastness of the oceans can be hard to grasp!
---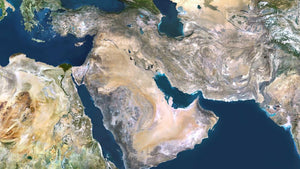 The earth's surface is 71% water, but the Middle East and North Africa have access to barely any of it. The region is the most water scarce in the world, home to just 1% of the world's freshwater resources. Countries in the region are withdrawing ground water at a rate faster than it can be replenished, and most of the water is for agriculture. Many countries are producing their own water from seawater through a process known as desalination. Approximately 75% of the world's desalinated water in produced in the Middle East/North Africa region. More than 300 million people around...
---